A holistic service, learning and user experience program for the upcoming 2018 Wagoneer's customer.
2018 Wagoneer Experience
Product Strategy, Service + UX / UI Design
Summer Internship with Fiat Chrysler Automobile's UX Studio
July - August 2016
During this internship, I worked on 4 short UX / UI projects and this project in the last month, which served as my main project. For this project, I was able to collaborate with the Color, Materials and Finishes team manager, Product Planning managers and the IT department managers who were already working on the 2018 Wagoneer.
At the end of my internship, I had the opportunity to present to the UX team, Product Planning team and also to the whole design management team (which included managers from all design teams and the Product Design Department head, Ralph Gilles).
PROMPT
Wagoneer User Experience. So what really is UX design? I believe that it is designing with the users' best interest in mind. Thinking about what kind of interactions they are going to have with the product, and how we can enhance that experience for them. I was given the prompt of creating an unboxing experience for the Wagoneer, but I believe that we should care about the customer from the very start till the very end.
There is no point in sending them just a thank you gift after they have already bought the car, this does not make them any more involved with our community, and also not help us in capturing the interest of people who have not yet invested in us. We want to be a permanent part of their life. So I decided to look at the whole ecosystem that the car lives within, and design a holistic cycle that surrounds the user.
It really is all about getting the user engaged and connected with the car, and with us. So let's pretend that you are the target user and I am selling this experience to you.
EXPOSURE + PRE-BUY
The most important person for all of these steps is you. We are trying to expose the car to the you in an engaging way, make the research process hassle free for you, the buying process enjoyable, the car learning experience exciting and also to keep you connected with our community. So how do we achieve all of this? By understanding who you are as a person, where your interests lie and what your values are.
You love having a quite a bit of adventure in your life and having car that can support that. You know you belong in the luxury tier, but you are down to earth and humble about it. You really appreciate the history and heritage of things, which is probably why you really treasure the memories you have made and are going to make in the future with the people you care about.
Just like these people.
So in buying a car, what is the most important thing you look for before making such a big investment? Trust. And who do you trust the most? Your community. So we want to be a part of your community, and we also want the things that exist within your community to be a part of us, whether it be fashion brand names, favourite campgrounds, or your favourite local whiskey distillery to visit.
For the older fans out there, "We don't make Jeep, You do". We want you to feel included, your thoughts to be heard and your vision of the 2018 Wagoneer to be put into consideration. We want you, and the whole Wagoneer fanbase to be excited about the new release.
We also want to hear the stories you have had with our Waggy. We want to give you a platform to share these stories with us, and with other Wagoneer fans. We want to build a Wagoneer community, that is also inviting for new people to want to join.
This online experience will also naturally lead you to discover the next stage: The buying/dealership experience.
BUYING (DEALERSHIP EXPERIENCE)
So then it comes to the dealership experience, that everyone hates. But for you luxury Wagoneer users, we wanted for this experience to be nostalgic and enjoyable - we wanted this to be as if you are being lead through the different ages of the Wagoneer, and how it has evolved to what it is today. We want the reveal to be grand, for the doors of the dome in the center to slowly open up to invite you to the new 2018 Wagoneer experience.
The walls of the dome will be projection mapped with the experiences you have picked to try out (demos). We want you to be able to envision the lifestyle you could have with the Wagoneer, what it would be like to go stargazing with the panoramic skyroof, what it would be like to go camping with such a large trunk space.
And even if you decide to not order a Wagoneer straight then and there, we still want you to have an engaging experience, ordering the Wagoneer at home, on our website, just as if our salesperson is there with you, helping you budget and giving you advice on what kind of features would best fit your lifestyle.
Just from one click of a button online, the Wagoneer could be yours - with no need to fight with the salesperson at the dealership since it is a fixed price, and with the website giving you all the information that you need on the car, we have removed the most problematic area of the car buying experience altogether: trust issues.
(Dealership Experience Research: What it is like now, and what it should be for the 2018 WS):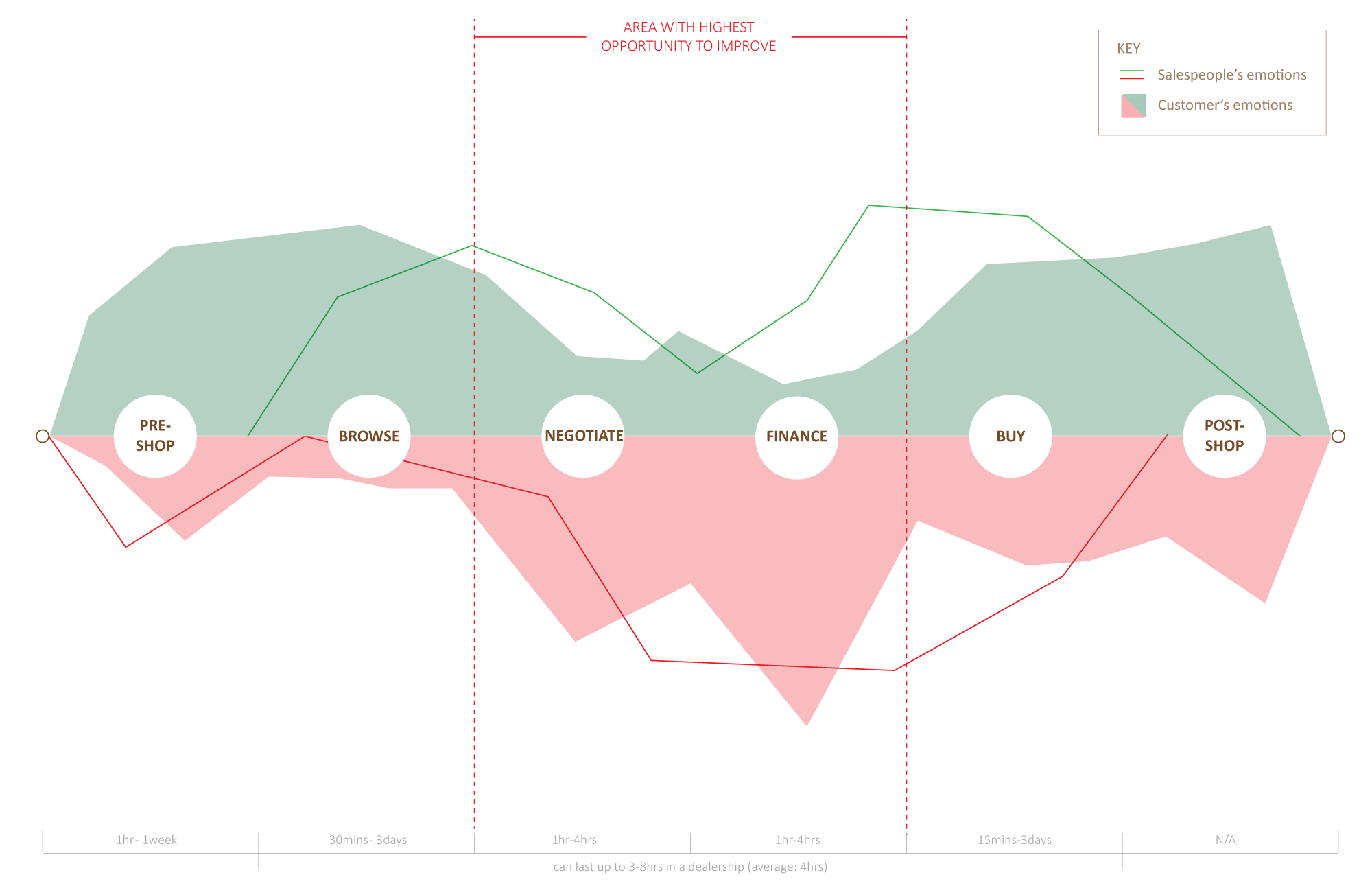 Wouldn't it then be cool if you could see your car being built, realtime? The Wagoneer app allows you track the progress of your Wagoneer being built, and you can also pick when and where you want your car to be delivered to - so for example, you could order your car in New York, and have it delivered to the doorstep of your new home in San Francisco, along with your new car keys and the regional unboxing experience that you have picked.
LEARNING + LOYALTY
So in this box comes a map of your region weaved into a large cotton throw, that has all the locations that your car has partnerships with embroidered on it. Each location also has an empty patch next to it, so you can collect special embossed patterns each time you visit a location, as a mark that you have been there.
As shown to you in the dealership, the throw is also perfect for helping protect the interior of your car from all your luggage and equipment!
Wouldn't it be awesome and convenient if you were able to collect and arrange all our memories with the Wagoneer in one place? Wouldn't it also be cool if you could reserve this travel package, and also register your vehicle online by just scanning the QR code on the back of these information cards? And how convenient would it be if your car could know when you reserved this trip for, so once you get on the car, the nav is up and ready, and it also gives you tips on which features of the car to use, to match with what you are about to experience.
Wouldn't it be even cooler that once you get to your location, you are able to drive into any state or national park without having to buy a pass, just from driving a Wagoneer?
We also know that you guys love to share about your adventures, and show other people how you are living the better life, how you are experiencing these unique things and at the same time, giving back to society by supporting local businesses. Online, through your social media platforms, you can keep your family and friends informed on how you are doing, and to share to other people how great your life has been ever since you invested in your life companion, the Wagoneer.
This is great because it helps us build a rich online community of Wagoneer experiences, that can inspire other people to invest in a great lifestyle like yours.
Website Experience
Wireframe sketches for 2018 Wagoneer's website. There are four parts to the website: heritage, buying, scheduling/contact, personal profile.
Heritage: I took inspiration from timelines used in museums to communicate a story of the history of a certain topic.
Buying: I did a lot of research into different services and how they approach the buying aspect of things. From the more traditional Amazon or Ebay setup with the product image, details and description, to the more abstract quizzes that you get a pre-set type of products recommended to you at the end on Shoedazzle. I also looked into the popular Buzzfeed personality quizzes, and decided to take this route because this allows the users to have fun while still being able to get a list of what they need at the end.
Scheduling/contact: I wanted this step to be as simple and straightforward as possible, which is why I decided on having just 2 buttons on a page, one for scheduling a visit to the dealership/signing up for demos, the other one being requesting a test drive.
Personal profile: I took inspiration from several successful social media platforms such as Facebook, Instagram and Snapchat and analyzed how they organized the profiles page for people. I also looked into Pinterest, Wordpress, Medium and traditional journalling styles for the "my story" section of their profile. Since the Wagoneer is known for its authenticity, I also wanted the stories told by the customers to give off a strong vibe of homey-ness and have them feel personal.
Dealership Experience
Ideating phase napkin sketches. I wanted to design a dealership experience that acts like a museum for the Wagoneer, where as the user walks through the path, the Wagoneer's history unravels up until they get to the 2018 dome.
Unboxing Experience
Benchmarking: Looking at other unboxing experiences from other companies to get inspiration.